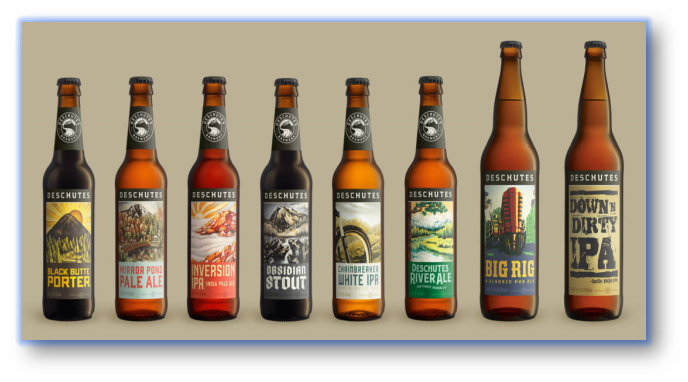 Deschutes Brewery Introduction
Gary Fish started the brewery with humble beginnings in 1988 in downtown Bend, Oregon. He named his bar after the Deschutes river that flows through his town. His company philosophy in the beginning was "We want people to feel like this is, in a lot of ways, theirs." In 1993 he had to move in to his first facility, because the demand for his product grew substantially. He now has two locations that distribute their brews.
Get Help With Your Essay
If you need assistance with writing your essay, our professional essay writing service is here to help!
Currently they have a selective range of IPA, rouge ales, barley wines, and American north-west style IPA's. They were recently partnered with Blue Ridge Beverages, who deals with Guinness, Coors, Mikes Hard, Boston brewing company (Samuel Adams) and many, many more (Beverages, 2017). For Deschutes this is a great way for them to become even more sustainable in local and global locations.
This Family owned dream, has become the sixth largest craft beer company in the United States. They have the small town mentality, with global goals within their reach. They let the employees buy stock in the company to engage them more in their goals of sustainability. Their current philosophy is "Do your best and next time do it better", this speaks to the way they run their company, the way they involve the community and the way they care about the environment.
They currently sell their variety of beers in 23 states, British Columbia, Alberta, Sweden, Denmark, Singapore, and Thailand. With their new partnership they plan to expand the line to include Eastern Canada and USA With the crisp tastes they produce this goal will expand rapidly and they will no doubt need another facility to service the needs of the customer. If they continue their sustainability goals in new locations, they will no doubt be a huge contributor of glocality. The company started actively reporting about sustainability in 2012 (wikipedia, 2017).
Current Sustainability goals of Deschutes
Thinking Glocally
Currently Deschutes has been able to give back one million gallons of water to the Deschutes river each year, they have partnered with the Deschutes river Conservatory to offset the consumption of water the company uses. This amount is 14 times the amount they use from all their locations. Meaning they are in a profit for their current sustainability goals and glocally they are miles ahead of the competition. They lease the water titles not currently being used on the river. With all that they also support the Fresh Water Trust, who assist in water quality and research to improve our rivers. With all this their circularity back in to the rivers is a huge contribution to not only their general location, but everyone downstream also. Currently they are using 4.20barrels of water to produce 1 barrel of beer, the national average is 5 barrels (2013). They want to get down to 3.69 barrels by this year. Setting the standards all around the craft beer industry and leading in the waste not, want not, way of thinking.
Responsiveness of the Company
Deschutes is very involved with their employees, at the moment they have a 7.9% co-owner rate, and the big owners treat them as co-owners, so they are more receptive to the goals and ambitions of the company. The employees are more motivated in the sustainability plans of the company because they have stake in the business. All the departments are constantly in communication with each other to help reduce wastes and water loss. They use the GRI triple bottom line approach to identify strengths and weaknesses in their operations. Deschutes also encourages the employees to do company outings like, snowshoe excursions, mountain biking, and all day hikes, just to ensure their health.
Right now to appeal to all customers they have made vegan beers which uses pesticide free ingredients. So they can dominate the craft beer market, by appealing to all consumers. They buy salmon safe hops from certified hop growers, to kill less salmon if the hops fall into the river. 98% of the steam used is recycled back in to the boilers. Their fermenting tanks use 20-30% less water than previous years. They deal with a local cattle company to get the spent grains and hops sent to cattle company for cows to consume, which totals a whopping 6200 tons per year. The companies three main goals, broken down from 17 are; to increase production of beer while using less resources per barrel of production, create lifelong customers by cultivating extraordinary experiences, and maintain a healthy, productive, and an engaged workforce.
Customer/Community Creative Thinking
The responsiveness this company has to the community and surrounding areas is great. They have a night every week in their pubs called "community pints" which donates one dollar from every pint sold to a new charity every month. They also have a "Pub for a day" in various cities around the USA, that donates 100% of the proceeds to a local selected charity. For pints sold in 2015 they raised $57,000 and to date they have donated $253,000 to various charities that range from sustainability, schools, youth, human services and the arts. They pride themselves on always wanting to be better in the communities they serve. The employees volunteer by cleaning the adopted highway the company sponsors to helping out at the MLK day of service.
Their approach to spaceship Earth, The lifecycle approach
As of 2015 they had a 6% decrease in the energy they used per barrel, and purchased 5 million kwh's of renewable energy, which could take 700+ cars of the road for a year. They save 69% of their energy by switching to LED lightbulbs. They've had a 14% reduction in cardboard waste, approx. 400,000 pounds of cardboard and plastics each year. Each year they are continuously improving the way they go green, they seem to be on the right track to growing their goals and profits. This is being recognized because they are the 2016 sustainability award winners, from Business Intelligence Group, 2011 "green power partner" from the US Environmental Protection Agency and various other awards. The water conservatory project they are involved with is the single largest donation ever made. They are at "Champion" level with Pacific Powers, Blue Sky renewable energy program.
Conclusion (Visser, 2011)
Overall, this company leads a great example in the craft beer sector and really to any company out there. Their creativity in ways to give back to the people they sell to and the environment they take from is pretty spectacular. I hope this company grows to large scale levels so they can do that much more to help protect our world. If every company took even 50% of what this company does, we would be in a better position to our sustainability goals around the planet.
Find out how UKEssays.com can help you!
Our academic experts are ready and waiting to assist with any writing project you may have. From simple essay plans, through to full dissertations, you can guarantee we have a service perfectly matched to your needs.
All information in this txt is cited from the same source unless stated beside the txt. (company, 2017) https://www.deschutesbrewery.com/wp-content/uploads/2015/07/Deschutes_Sustainability-Report2013web_0.pdf is where mostly all our stats came from and their sustainability page.
Beverages, B. R. (2017, 03 24). Blue Ridge Beverages. Retrieved from Blue Ridge Beverages: http://www.blueridgebeverage.com/beverages/
company, D. B. (2017, 03 24). Deschute Brewery company. Retrieved from Deschute Brewery company: https://www.deschutesbrewery.com/wp-content/uploads/2015/07/Deschutes_Sustainability-Report2013web_0.pdf
n/a. (2017, 03 24). the brew site. Retrieved from n/a: www.thebrewsite.com
Visser, W. (2011). The Age Of Responsibility: CSR 2.0 and the new DNA of Business. West Sussex: John Wiley & Sons Ltd.
wikipedia. (2017, 03 24). wiki pages bio. Retrieved from wikipedia: https://en.wikipedia.org/wiki/Deschutes_Brewery